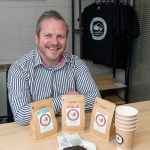 Jon Carter, Managing Director.
The Island Tea & Coffee Co
Profile: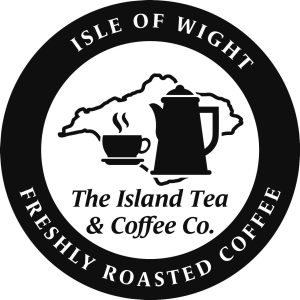 Founded in 2009 and based on the beautiful Isle of Wight, Island Tea and Coffee provide freshly-roasted coffee and locally blended teas to business, retail stores and the hospitality sector across the island and now parts of Hampshire. This includes custom blends to reflect the individual character of a business, restaurant, hotel or event.
The environment is a key part of our ethos and message, reflected not only in ethically-sourced coffee beans, but in their production. This starts with our master roaster hand roasting great quality Arabica coffee beans to allow more of the beans' characteristics to develop, using coffee roasting machines powered by the 77 solar panels on the roof of our offices and warehouse complex. Once ready, orders are then delivered by our growing fleet of electric vans – something very important to us, our customers and an island designated as a UNESCO Biosphere Reserve.
What are you working on at the moment?

As with any successful business, we are constantly adapting and innovating. From a purely business perspective we are continuing to see great success in expanding into the mainstream. Seeing our coffees introduced into Morrison's Stores is one recent example. Outside of this we are developing specialist blends and taste accents to reflect the character of individual customers, in addition to seasonal blends that capture the spirit at times of celebration. We also recently took delivery of a Coffee Kart, which enables us to get out to more events across the island and the South to promote our brand and for people to experience great coffee. Our team love meeting people, so this is a win for everyone.
.
What's a day in the life like at Island Tea & Coffee?
Whilst no two days and weeks are quite the same our team typically starts their day at 7am, roasting coffee beans for bean to cup and also ground beans for espresso and filter. Alongside this our warehouse team will be picking orders for our delivery teams, which start to be delivered across the island from 10am. Being on an island, ferries dictate much around our schedules for mainland customers, so many orders are picked and packed the evening before to ensure our delivery teams can leave the island on the 9am sailing. We have also seen a lot of success in mail order, with regular clients as far away as Florida loving our coffee. All of this keeps our master roaster, warehouse and delivery teams busy. Alongside this is a busy admin and business development team that keeps customer in close contact and our supply partners working alongside us on a daily basis. We also regularly welcome customers to visit and tour our facilities, including coffee tastings, which is always popular.
What are the main issues/priorities?
We constantly strive to ensure our coffee is as fresh and consistent as it can be from roasting to cup; not always an easy challenge. Increased costs and mitigating these is something everyone is grappling with at the moment.  We are no exception. However, we are seeing some good economies of scale benefit us to help maintain prices as our business grows. Our investment in solar panels and increasing e-fleet of delivery vehicles has been a big win for us, reducing costs that others are struggling to control around production and distribution. Overall, we have been able to maintain pricing and importantly margin at a time when others are being forced to increase their costs.
.
What's the biggest success story so far?
There are two. The first is getting into Morrison's. We have worked closely with them and are seeing the benefit of this, with us now seeing over 20% YOY Growth through their stores. Also, we are privileged to provide our coffee to the artists performing at, and VIP guests to, the Isle of Wight Festival. We get to meet some amazing celebrities and serve them our great coffee.
How long have you been a member of BCA and why did you decide to join?
We are quite new members to BCA, it was only back in 2021 that we joined. Joining was an important step in our development as a business. BCA membership reflects our professional standards, helps enhance reputation and our status as a specialist. But also gives us the opportunity to meet like-minded people, share ideas and learn more from those that have been doing this for much longer than us – you never stop learning!
What's the best/most useful thing about being a member of the BCA?
At the moment, it's learning. BCA provides a great opportunity to learn from others, in addition to access to information plus regular updates. We've established some great contacts and made friends across the industry, which we could not have done without being members. Their input at times has been invaluable in helping us develop.
What do you love most about the coffee industry?
There are a few things: the wide variety of people you get to meet. It's not like many industries where everyone is a clone, they are all individuals but share a passion for coffee. We love hearing the stories of peoples 'journey' in coffee, how it started, what coffee means to them, their aspirations for the future – it can be truly inspiring. Also, what coffee means to people. From the growers and roasters to the coffee shops and restaurants and importantly the customers that enjoy the result of the small part we play in coffee and their lives. It is so much more than just a cup of coffee.
Who or what inspires you?
The people within our industry inspire us, all they have achieved and their journeys. The customers who drink our coffee and what it really means to then and the part we play in their lives and the constant challenge they lay down for us to be the best we can that motivates us to be more than what we are today.
What advice would you give to someone who wants to enter your field?
You have to be passionate and excited about coffee. Whilst it can be a simple lifestyle choice for some and easy to get into, you have to be passionate and in it for the long-haul. Also, work hard to establish and differentiate yourself from others and keep on doing that. It is hard establishing yourself in a market and even harder to stay there.
Our thanks to Jon Carter of Island Tea & Coffee Co for answering our questions.